Curriculum
---
The Hybrid Summer M.A. in Music and Music Education (M.A. M&ME) is a 32-credit/point program that combines online coursework with
intensive summer residencies
, enabling students to complete the program—expeditiously and conveniently—while continuing to work. We offer a flexible and individualized program for each student to accommodate interests, schedules, and desired
career paths
. Most students complete the program in two years, participating in two four-week
Summer Residencies
and taking online courses part-time during the Fall and Spring semesters. Students may choose, however, to take fewer online courses during the academic year and, instead, participate in a third Summer Residency.
The M.A. M&ME is a cohort-based program, meaning students who begin the Summer Residency together learn together in online and on-campus courses for the duration of the program. This model enhances learning, fosters creativity, builds life skills, and creates a sense of community. Students form bonds that often lead to lifelong friendships, as well as professional opportunities.
To view Music and Music Education program courses, visit the Course Description page on our website.
---
Curriculum Features
---
The M.A. M&ME curriculum, developed, taught, and continually updated by our internationally acclaimed
faculty
, engages you in a full range of intellectually robust and creatively rich learning experiences. At Teachers College (TC), your music and music education coursework encompasses pedagogy, music literacies, research, performance and, with courses outside the
Teachers College Music Education
program, breadth.
This degree is EVERYTHING! The teachers, class options, fellow students, and hybrid format are great; and the in-person summer residency is something to look forward to!

Jeanel LeBlanc, Hybrid Summer M.A. M&ME, Teachers College, Columbia University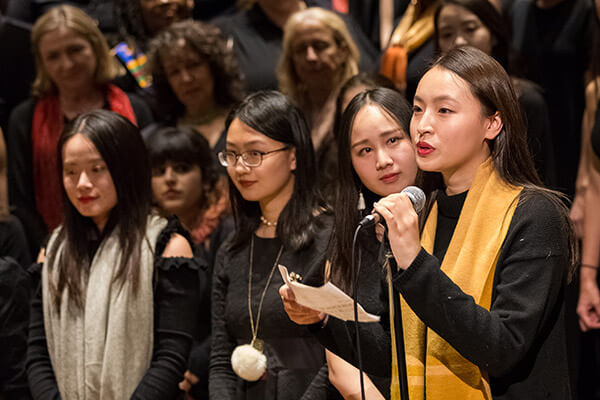 The program equips you with the analytical and critical thinking skills needed to integrate theory and practice. You graduate prepared to lead in a diverse range of educational settings and be an effective champion of music education in schools and communities around the world. Program coursework also strongly supports the development of your musical identity and growth as a performer.
Highlights of the M.A. M&ME curriculum include:
Coursework that interrogates traditional music education practices, explores new paradigms of teaching and learning, and places you at the heart of contemporary pedagogical theory and practice
Fieldwork experiences that give you the opportunity to immediately apply what you learn in the program to your classroom or studio and receive valuable feedback and support from faculty and peers
Boundary-expanding ensemble experiences, one in your primary instrument and another in a secondary instrument and alternate music genre
A student-centered approach to learning, giving you numerous opportunities to tailor assignments to align with your personal interests and goals, and also take Teachers College courses outside the Music Education program (e.g., digital games development, organizational psychology, and education administration)
Best-in-class Summer Residency
Read more about our Summer Residency
---
Online Learning Environment
Our program offers students an engaging, media-rich online learning experience that mirrors our dynamic on-campus classroom environment. Most online courses correspond to the University's academic calendar, with Fall and Spring terms spanning 15 weeks and the Summer A and Summer B terms both spanning six weeks.
For online coursework, we use the Canvas platform, a technologically advanced, but easy to use 21st-century learning management system. It serves as a hub for coursework and communication. Among its features are a repository for sharing all kinds of content and an integrated media recorder that can be used for messaging, assignments, and discussions.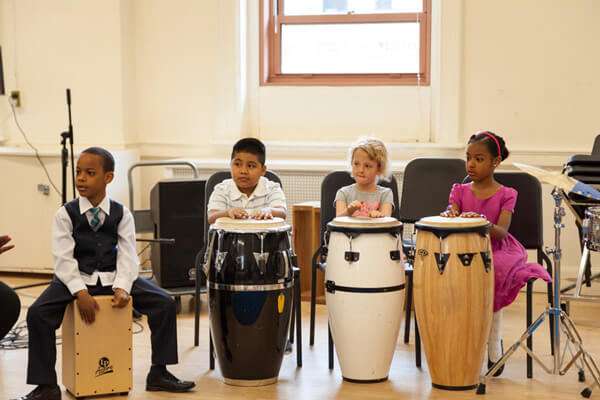 Every course is different, but all online music and music education courses combine components that are asynchronous (self-study with interactive elements including email and discussion boards) and synchronous (learning with others in real-time using videoconferencing and other technologies). Students can expect to engage in activities that include reading articles and texts; completing written assignments; viewing recorded lectures and presentations; participating in discussion boards and live discussions; taking quizzes; and participating in asynchronous and synchronous group exercises. They may also blog, vlog, or engage in other activities—depending on the class and their personal interests.
In addition to Canvas, Hybrid Summer M.A. students use technology and software including Zoom video conferencing for all online courses and Acclaim for the Fieldwork course. Online learning at Teachers College offers the added benefit of increasing students' overall technological proficiency.
Required video conferencing sessions are scheduled collaboratively to ensure all students can participate. Though online classes enable students to complete coursework largely on their own schedule, most courses require students to log in and participate once or twice weekly, and complete assignments on deadline. You can expect instructors to reply to your questions within 24 hours.
Your faculty advisor and the M.A. M&ME program coordinator are available for scheduled one-on-one virtual meetings throughout the year.
---
Online Student Orientation
TC provides you with a range of resources to help ensure a smooth transition into the online learning portion of the Hybrid M.A. M&ME and success with your online studies. The College's Academic Technology office sends all admitted students a welcome letter containing information on getting started with course technology. Students also receive course-specific information and resources at the beginning of each online course they take.
---
Fieldwork Experiences
The fieldwork course is optional but strongly recommended. It provides you with the opportunity to put theory into practice and apply new knowledge and skills to your own students and classrooms. Most students take two semesters of Reflective Practice in Music Teaching (A&HM 4201) in the Fall semester following Summer A and in the Spring semester following Summer B. The Reflective Practice in Music Teaching Level I and Level II courses may not be taken simultaneously, and we strongly recommend that students take Assessment Strategies for the Arts (A&H 5002) prior to taking Reflective Practice in Music Teaching Level II.
The online fieldwork courses are taken with your cohort, offering community, shared experiences, and an exceptionally dynamic learning atmosphere. You engage in a broad range of assignments, and interact closely with your peers. Activities include sharing video of your teaching, reflections on both your teaching and your students' learning, and meeting in live sessions.
In each of the fieldwork courses, you research, design, implement, and assess a project. The topics of these projects are School/Class Curriculum and Understanding Your Individual Students.
---
Coursework Basics: Online and On Campus
Students can complete as many as eight credits/points during each of the two Summer Residencies and complete the remaining 18 credits/points during the academic year.
Most of the courses offered in the program combine teaching with research, writing, and performance, and include an even mix of group and individual projects. We suggest that students devote 10 to 12 hours per week of study for each three-credit/point course. Students are expected to maintain a minimum 3.0 GPA throughout the program.
Course Descriptions
---
Ensembles
During each Summer Residency, most Hybrid Summer M.A. students take an Ensemble Performance course for one credit/point. We recommend that students select one Ensemble course in their primary instrument and the other in a secondary instrument and alternate music genre. A student who is an orchestra violinist, for instance, might play violin in a string quartet one year and play bass guitar in a rock band the second year. As one of our students expressed it, this experience takes you out of your comfort zone and helps you relate to young students who are learning new instruments.
---
Applied Lessons
Most students take two semesters of voice or instrumental applied lessons and may take additional lessons as electives. These two-credit/point courses require 10 hours of one-on-one instruction. Hybrid Summer students typically take these lessons during the academic year from a teacher in their area, but may be permitted to take lessons on campus if they choose to take a third Summer Residency.
Applied Lessons Requirements
---
Graduation Portfolio
At the end of the program, each student compiles their own Graduation Portfolio composed primarily of completed projects from their courses. Using the portfolio as a measure, faculty assess students on Content Knowledge, Pedagogy, Student and Self Assessment, and Professionalism.
Graduation Portfolio Requirements
---
Coursework Requirements and Course Descriptions
---
Coursework Requirements
Students are required to complete 32 credits/points to graduate from the M.A. M&ME program. Music and Music Education courses fall into these four categories: Pedagogy, Research, Music Literacies, and Music Performance.
Students are required to take:
Two courses in Pedagogy
One course in Research: A&H 5002 Assessment Strategies for the Arts
One course in Music Literacies
Four credits/points in Music Performance
Six credits/points in Teachers College courses outside of the Music and Music Education program
---
Electives
Elective music courses may be selected from any of the four areas of study in consultation with your academic advisor.
---
Courses Outside the Music and Music Education Program
Outside Music program courses follow the Teachers College academic calendar, which does not align with the four-week Summer Residency. The College's Summer A and Summer B semesters each span six weeks. Hybrid Summer M.A. students can take outside Music program courses online during any semester. To take these courses in person, some students extend their time on campus during the Summer Residency.
Visit the Course Schedule page for more information about current and upcoming Teachers College's courses or view the full Academic Catalogue to explore all of the College's offerings.
---
Advisement
---
We strongly recommend that admitted students connect with their academic advisor soon after admission and stay connected throughout the program. This helps students plan their coursework and ensures they get the most out of their Hybrid Summer M.A. education.
Request Information
To learn more about the Hybrid Summer Master of Arts in Music and Music Education, offered by Teachers College, Columbia University, fill out the fields below to
download a free brochure.
If you have additional questions, please call
(877) 238-6628
to speak with an admission counselor.
*
All Fields are Required. Your Privacy is Protected.