Admission
---
The Hybrid Summer Master of Arts in Music and Music Education (M.A. M&ME) attracts students from diverse ethnic and cultural backgrounds, experiences, and musical and educative interests. The
summer master's program for teachers
offers students an unparalleled post-graduate educational experience from Columbia University's world-renowned Teachers College (TC). It aims to deepen the capacities of each student in their approach to teaching, research, and performance through creative explorations and robust inquiry.
The Hybrid Summer M.A. M&ME considers the whole person when evaluating applicants and requires no GRE or minimum GPA. We look forward to reviewing your application!
---
Upcoming Start Dates
You have two opportunities to begin the program each year. Though student cohorts begin with the Summer Residency, you can begin the program with online courses in the Spring term.
Upcoming Semester:
Summer 2024: July 8, 2024
Admissions Requirements
---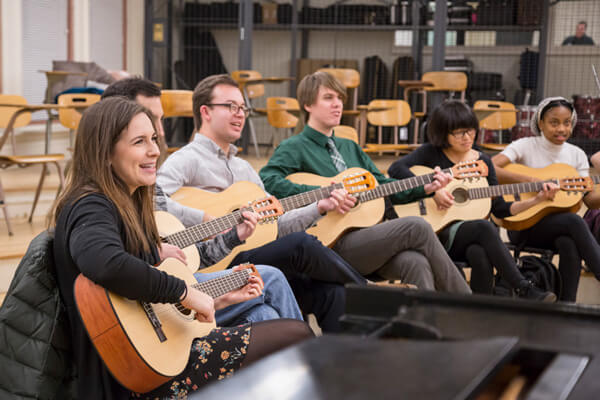 To be considered for admission, individuals must hold a bachelor's degree from a regionally accredited institution as recognized by the U.S. Department of Education. If you earned your bachelor's degree from an institution outside the United States, you must submit your higher education credentials to WES or ECE for a course-by-course evaluation. Most applicants hold a bachelor's degree in music or music education, but it is not required.
Candidates should already be teaching certified, or not seeking teaching certification—certification is not a prerequisite for entry into the program. Individuals who qualify as candidates include current teachers in private, public, charter, and international schools or settings, including those who teach in studios or community organizations. We also welcome applicants who have earned teaching certification via an undergraduate program.
---
Admissions Process
---
We accept applications on this rolling admission schedule:
Semester Start
Application Deadline
Residency Start
January 16, 2024

Final: November 15, 2023

July 8, 2024
Applicants must submit all of their application materials to the Teachers College Office of Admission for preliminary review. Once your application is complete, TC will forward it to the Music and Music Education Admission Committee for final review. The committee will then forward its decision to the Office of Admission.
Students who are admitted into the program receive:
Electronic offer of admission from the Director of Admission and New Student Enrollment
Welcome email from the Program Director of the TC Music and Music Education Program
---
Students who are denied admission receive:
Denial letter, via email, from the Director of Admission and New Student Enrollment
---
Application Materials
---
As part of the admissions process, all candidates must submit these materials:
Completed online application for the Hybrid Summer M.A.

Please note that within the application, you will be asked if you have valid teacher certification. The information is helpful for a holistic review of the application and is not a requirement for entry into the program.

Transcripts from all colleges or universities attended
Statement of purpose
Current resume
Two letters of recommendation (academic and/or professional)
Digital Portfolio (optional)

Applicants are invited to submit a digital portfolio if they choose to do so. You may select 10-20 minutes of materials displaying your musical and/or research interests. Submit short video recordings (5 minutes) describing your areas of interest and how you might advance them at Teachers College. You may also include yourself performing, conducting, creating, or teaching any music of your choice, including audio recordings of composition if applicable. The digital portfolio should contain various files and be representative of your overall goals. Please submit recordings that are less than three years old.

The Admission Committee acknowledges that providing a digital portfolio may pose a hindrance or hardship. It is meant to serve as an additional resource should an applicant choose to include one. Whether an applicant decides to provide recordings or not will not impact their consideration for admission.

$75 application fee
---
Instructions for Transcripts and Statement of Purpose
Transcripts
As part of a complete application for admission, students must submit unofficial or official transcripts from all institutions they have attended. An unofficial transcript is a copy of an official transcript provided to a student by their institution's transcript office. At a higher education institution, the Office of the Registrar typically is responsible for handling transcripts.
Upload a scanned copy as part of your application to TC. Students who attended institutions outside the United States, must submit their higher education credentials to WES or ECE for a course-by-course evaluation. This does not pertain to students from the United States spending a semester or year abroad, i.e. "study abroad."
Upon enrollment, students must have their issuing institutions submit an official copy of their transcripts directly to Teachers College via mail or a secure electronic system.
Transcripts can be mailed to:
Teachers College, Columbia University
525 West 120th Street
Box 302
New York, NY 10027
International Transcripts
All transcripts from institutions outside the United States require a course-by-course evaluation. We accept evaluations from these agencies:
WES and ECE provide several types of evaluations. Select the course-by-course evaluation option to ensure your evaluation meets our requirements for admission review.
Once submitted to Teachers College (TC), the evaluation becomes an official academic record and sole property of Teachers College.
Evaluations will be reviewed by Teachers College administrators and the determination of degree equivalency to U.S. degrees is at the discretion of TC.
English Proficiency
If you received your baccalaureate (bachelor's) degree from an institution where English is not the sole official language of instruction, you must submit official TOEFL or IELTS English proficiency exam scores. These scores must be sent directly from the testing administrator and have been taken within the past two years to be considered official.
Minimum score requirement: 100 internet based (IBT) or 600 paper-based (PBT)

Minimum score requirement: 7.0
Statement of Purpose
When reviewing a statement of purpose, the admission committee carefully considers the applicant's ability to relate their background and experience to the goals of Teachers College, the program in Music and Music Education, and the Hybrid Summer M.A.
Write a statement that is two to three double-spaced pages in length.
Be sure to describe:
Your academic and professional background
Your plans for graduate school
Your professional goals
How and why you are a good fit for the program
Resume
Your resume should be a standard professional resume, which could be a chronological listing of your employment and educational history, academic endeavors, and other significant activities.
Request Information
To learn more about the Hybrid Summer Master of Arts in Music and Music Education, offered by Teachers College, Columbia University, fill out the fields below to
download a free brochure.
If you have additional questions, please call
(877) 238-6628
to speak with an admission counselor.