Online Learning
---
Online Learning Environment
Our program offers students an engaging, media-rich online learning experience that mirrors our dynamic on-campus classroom environment. Most online courses correspond to the University's academic calendar, with Fall and Spring terms spanning 15 weeks and the Summer A and Summer B terms both spanning six weeks.
For online coursework, we use the Canvas platform, a technologically advanced, but easy to use 21st-century learning management system. It serves as a hub for coursework and communication. Among its features are a repository for sharing all kinds of content and an integrated media recorder that can be used for messaging, assignments, and discussions.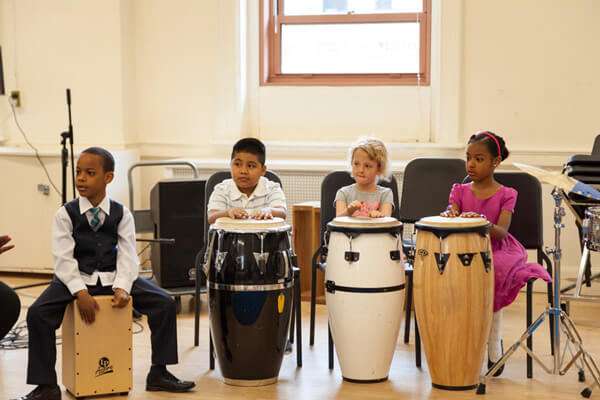 Every course is different, but all online music and music education courses combine components that are asynchronous (self-study with interactive elements including email and discussion boards) and synchronous (learning with others in real-time using videoconferencing and other technologies). Students can expect to engage in activities that include reading articles and texts; completing written assignments; viewing recorded lectures and presentations; participating in discussion boards and live discussions; taking quizzes; and participating in asynchronous and synchronous group exercises. They may also blog, vlog, or engage in other activities—depending on the class and their personal interests.
In addition to Canvas, Hybrid Summer M.A. students use technology and software including Zoom video conferencing for all online courses and Acclaim for the Fieldwork course. Online learning at Teachers College offers the added benefit of increasing students' overall technological proficiency.
Required video conferencing sessions are scheduled collaboratively to ensure all students can participate. Though online classes enable students to complete coursework largely on their own schedule, most courses require students to log in and participate once or twice weekly, and complete assignments on deadline. You can expect instructors to reply to your questions within 24 hours.
Your faculty advisor and the M.A. M&ME program coordinator are available for scheduled one-on-one virtual meetings throughout the year.
---
Online Student Orientation
TC provides you with a range of resources to help ensure a smooth transition into the online learning portion of the Hybrid M.A. M&ME and success with your online studies. The College's Academic Technology office sends all admitted students a welcome letter containing information on getting started with course technology. Students also receive course-specific information and resources at the beginning of each online course they take.