Tuition & Financial Aid
---
Our goal is to help remove financial barriers to assist students in meeting the cost of attendance. All students admitted into this selective program are eligible for a minimum scholarship covering six credits/points of coursework, provided that they a) indicate on their admission application that they seek the scholarship and b) register for a minimum of six credits/points per Summer session. The scholarship covers four credits/points toward the first year and two credits/points toward the second year.
Please note that Teachers College uses the word "point" to reference what may be more commonly known as a "credit."
| Tuition* | |
| --- | --- |
| Total tuition (32 credits/points) | $63,680 |
| Total tuition with scholarship (six credits/points) | $51,740 ($63,680 – $11,940) |
| Cost per credit/point | $1,990 |
| Cost per credit/point with scholarship (six credits/points) | $1,616.88 |
| Teachers College fee (per term) | $508 |
| Textbooks | Varies by course |
*Tuition and fees are based on 2023-24 rates and are subject to change.
Please visit the Summer Residency page for information about costs associated with your on-campus experience.
To secure a place in the program, please note that students must pay a non-refundable deposit of $300 that applies toward tuition.
---
Financial Aid
Students may be eligible to take out federal and/or private education loans to cover tuition and other education-related costs that might include books and supplies; room and board; personal expenses; and transportation costs. For federal student loans, students must fill out a Free Application for Federal Student Aid (FAFSA). Be sure to include the FAFSA school code for Teachers College (TC): G03979.
The Financial Aid Office provides counseling and assistance with completing the financial aid application, evaluation, and determination of need.
For more information about funding your education, please contact:
Additional information can be found on the Teachers College Financial Aid website.
---
External Funding and Scholarship Opportunities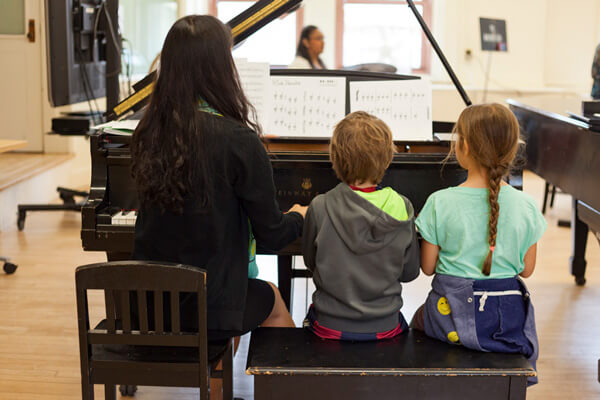 Many school districts provide tuition waivers or reimburse teachers for professional development. We encourage all students to inquire with their employer about assistance with funding their online M.A. M&ME degree.
Students may also want to explore external sources of funding including:
---
Federal Benefits for Members of the Armed Forces
Teachers College participates in the Department of Veteran Affairs' Yellow Ribbon Program. The scope of benefits provided by the Post 9/11 GI Bill and the Yellow Ribbon Program help make obtaining a post-graduate education possible for eligible veterans, regardless of socio-economic status. Visit the TC Veterans Benefits website to learn more about the Yellow Ribbon Program and how to apply.
Request Information
To learn more about the Hybrid Summer Master of Arts in Music and Music Education, offered by Teachers College, Columbia University, fill out the fields below to
download a free brochure.
If you have additional questions, please call
(877) 238-6628
to speak with an admission counselor.