Experience Summers On Campus at Teachers College, Columbia University
---
Upcoming Semesters:
Spring 2024: January 16, 2024
Summer 2024 Residency Start: July 8, 2024
Spending a month in New York City to take classes on campus at Columbia University is one of the highlights of the Hybrid Summer Master of Arts in Music and Music Education (M.A. M&ME). It's something our students say you must experience to fully appreciate.
I really look forward every summer for this month that I'm out here. I love my classes and obviously spending a month in New York City, I mean you can't beat it.

JuanCarlos Rivero, Hybrid Summer M.A. M&ME, Teachers College, Columbia University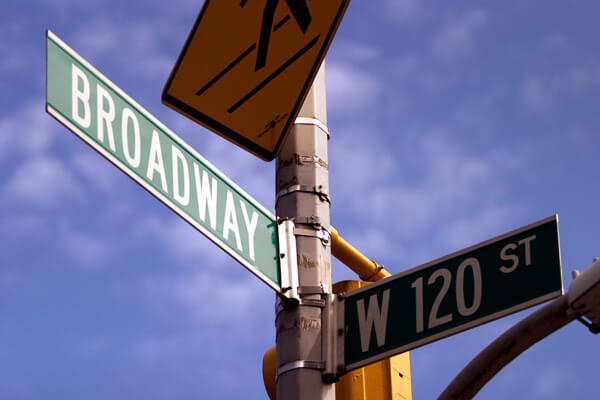 Though you may begin the program with one semester of online coursework during the Spring term, your summer graduate program for teachers journey officially begins with the first Summer Residency. This is the time when bonds are formed among students in the same cohort, and our program faculty and you get to know one another. Your peers who begin the Summer Residency with you continue to learn with you in many of the same courses, online and on campus, for the duration of the program.
The four-week Summer Residency starts shortly after the the July 4th holiday. For most students, it consists of three courses, meeting every Monday, Tuesday, and Thursday for approximately two hours. Classroom courses meet at 10 a.m. and 1 p.m., followed by the Ensemble course at 3:30 p.m. The Summer Residency also facilitates interaction with students in the other Teachers College music education cohort.
Students have a one-hour lunch break and enjoy weekly pizza lunches with faculty and peers. This schedule provides learners with time to complete assignments, explore cultural and artistic offerings in and around Manhattan, socialize, and explore the region or return home over a long weekend.
Many faculty members use the city as an extended classroom, taking students on field trips or bringing in local artists to give presentations or workshops.
Organized activities have included:
Concerts in Central Park
Salsa dance class at a local studio
Museum trips
Broadway and off-Broadway shows, e.g. Stomp
Classroom visit and musical instruction with jazz legend Mitch Frohman
Performances at off-the-beaten-path venues, e.g. Smalls Jazz Club
Baseball games at Yankee Stadium (sorry Mets fans!)
---
Housing Options
Our program coordinator is available to connect you with resources to identify and secure housing for the Summer Residency. Hybrid Summer students have multiple options, including residence halls, short-term sublets, and rentals. Teachers College (TC) recommends students stay in or near the Upper West Side or Morningside Heights for a short commute to Teachers College at 525 West 120th Street. You will also be close to Central Park, Lincoln Center, and numerous internationally acclaimed museums and musical venues.
The Office of Residential Services offers a limited number of spaces in on-campus residence halls for our Hybrid Summer M.A. students. For more detailed information about room rates, please visit the Summer Conference Housing page.
On-campus housing for Summer students is known as Summer Conference Housing and has a separate application process than school-year housing. When you apply for housing, please complete the Summer Conference Housing Application, and indicate that you are planning to enroll in the Hybrid Summer M.A. in Music and Music Education program. Do not use the Academic Year Student Housing Application.
If you are interested in applying for Teachers College housing, we recommend contacting the Office of Residential Services as soon as possible. You can visit their website or call them at 212-678-3235.
For more information about housing options, please contact an admission counselor at (877) 238-6628 or musiconlinehybrid@tc.columbia.edu. As in any leasing circumstance, we advise students to use caution and common sense when exploring off-campus options.
---
Costs Associated with the Summer Residency
Students are responsible for housing, transportation, meal and personal expenditures.
---
New York City's Morningside Heights Neighborhood
Check out the About Our Neighborhood page to learn more about the vibrant neighborhood that is home both to the College and many of our students during their time with us.
---
Explore Arts and Culture—Free of Charge
Your TC ID grants you free admission to most of the major museums in New York City. You can visit www.nycgo.com for weekly listing of concerts, plays, and events in and around the city.
---
Register Early for Summer Courses
Summer courses are initially available only to students in the Hybrid Summer Master's in Music and Music Education. These courses become available to other students several weeks after registration opens. Since they fill up quickly and may close, we strongly encourage you to register as early as possible for Summer Residency courses.
To register for classes, newly admitted students must first pay the non-refundable TC enrollment deposit through the Application Status Page. Registration dates and deadlines vary by term; please review the Teachers College Registration Deadlines page for more information.
Request Information
To learn more about the Hybrid Summer Master of Arts in Music and Music Education, offered by Teachers College, Columbia University, fill out the fields below to
download a free brochure.
If you have additional questions, please call
(877) 238-6628
to speak with an admission counselor.