Transform Music Education
---
The Hybrid Summer Master of Arts in Music and Music Education (M.A. M&ME) at Teachers College, Columbia University, offers you an intellectually rigorous and creatively engaging education that prepares you for the challenges and rewards of teaching music in the 21st century.
These are exciting times for music educators. New voices, ideas, and technologies are giving rise to widespread cultural transformation, and music is playing a pivotal role in this sea change. Current generations are reinventing the way music is produced and consumed, and today's educators are transforming the way music is taught.
Request Brochure
To learn more about the Hybrid Summer Master of Arts in Music and Music Education (M.A. M&ME) at Teachers College at Columbia University, fill out the fields to download a free brochure. You may also call us toll-free at (877) 238-6628 to speak with an admission counselor.
Why Teachers College?
---
About the Hybrid Summer M.A.
About the Hybrid Summer M.A.
The Hybrid Summer M.A. M&ME has no parallel. Teachers College, Columbia University, is the only Ivy League institution with a postgraduate Music and Music Education program and one of just a few universities that offers a hybrid M.A. in this area of study. With our M.A. M&ME, students get the best of everything: a world-class education, online coursework during the academic year, and two immersive Summer Residencies in New York City—one of the world's premier cultural hubs.
As part of Teachers College, the program gives you the opportunity to develop musical, pedagogical and leadership skills—in tandem. As a cohort-based program, it immerses you in a community of thinkers, practitioners, and scholars. You will share experiences and form bonds that impact your life throughout your time at Teachers College and long after you graduate.
I entered the program for selfish reasons. I was thinking about my need for an intellectual boost and how good the program would be for me professionally. I didn't expect it to alter my teaching in such concrete and impactful ways. I became more invigorated and excited as an educator, and my students became more engaged and motivated.

Andrea Maas, Hybrid Summer M.A. M&ME, Teachers College, Columbia University
Join the Teachers College Family
Join the Teachers College Family
Teachers College (TC) is an important part of what makes the Hybrid Summer M.A. M&ME so powerfully unique. It is not only the nation's oldest, largest, and most comprehensive graduate school of education, it also perennially ranks among the nation's best. With this rich heritage and ongoing commitment to social justice in education, TC is a major player both in policy-making and in preparing students to serve as transformative educators in their schools and leaders in the broader educational landscape.
Scholarships
Individuals admitted into the Hybrid Summer M.A. in Music and Music Education program are accomplished students and professionals. We recognize these achievements by giving all admitted students the opportunity to be awarded a minimum scholarship covering six credits/points of coursework. Learn more about scholarships on our Tuition page.
*Please note that Teachers College uses the word "point" to reference what may be more commonly known as a "credit."
More Program Highlights
---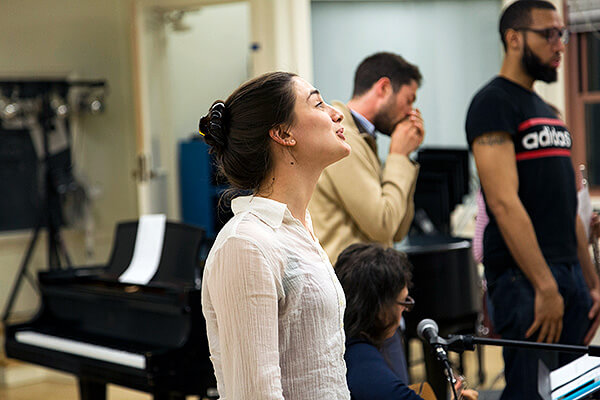 You learn from and interact with distinguished faculty, who are internationally-renowned leaders in music education, widely-published scholars, and passionate educators and advocates.
Our cutting-edge curriculum includes fieldwork, ensemble experiences, and classroom training, equipping you with the knowledge, skills, and confidence needed to excel in 21st century educational settings.
We support your personal career goals through a student-centered approach to learning that includes opportunities to take Teachers College courses outside the Music Education program.
Our engaging online learning platform fosters lively conversation and interaction with peers and faculty members, and enhances your technological skills.
You experience two exhilarating four-week Summer Residencies that offer robust learning experiences; weekly lunches with faculty and peers; and field trips to landmark institutions, as well as to venues off the beaten path.
Upon graduation, you join Teachers College's network of 90,000 global alumni and share in the collective passion, intellect and drive of Columbia University's broader network of leaders, creators, and change-makers.