Careers with a Master of Arts in Music and Music Education
---
The transformative power of music education, especially on developing minds, has been a key area of research for decades. And, despite the long history of music education research, new discoveries continue to be made about how learning music affects our minds. One longitudinal study, published in March 2018, linked several cognitive benefits with structured music lessons, including improved language-based reasoning, enhanced short-term memory and better overall academic performance.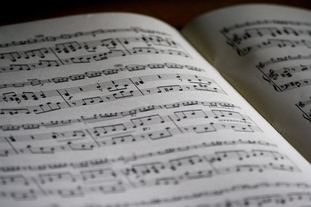 Pursuing a Master of Arts in Music and Music Education is also largely about transformation. By expanding your technical mastery and connecting with other educators, you can fine-tune your passion and talent, transforming them into engaging lessons and unforgettable experiences for students. In many cases, music educators also have the opportunity to enhance the communities in which they live and work.
Read more: Connecting Music to Kids' Lives: Ayanda Dalamba, TC's inaugural Milman Music Education Fellow
Careers in Music Education
There is no one-size-fits-all music education career, and the best educators are frequently those who can integrate their own passion and personal style with academic rigor to meet their students' needs. The overall job market for music education is healthy, with the music teacher employment rate expected to grow 12 percent between 2016 and 2026. Music teachers and administrators can also step forward and create opportunities that would have been impossible without their drive and the care they give their students.
In addition to working with groups of different ages, from elementary to postsecondary students, music teachers are often the driving force for building programs from the ground up. In her recent article, elementary music teacher Chesley Talissé explores how she built a program from scratch for a small Title I charter school in Mansfield, Ohio. Her challenge was two-fold. First, her school had no previous general music, no band and no musical performance programs. Second, her community's poverty rate was close to 90 percent, making it difficult to acquire sheet music and equipment.
Through her work, which included getting grants for funding and gaining the trust of her students, she was able to create a program that engaged students and allowed them to put on performances they could be proud of.
"I went from begging parents to come see performances five years ago to having 500 audience members cheering their children on this past year," Talissé wrote. "Alumni returned to enjoy the show, and some performed with the students."
Whether you are interested in teaching, founding your own school, an administrative role or some combination of various roles, building a successful career in music education is about leveraging your creativity and passion to take ownership over what you want to build with your students and your communities.
Related Content: TC Student Story: Tanatchaya Chanphanitpornkit
Music Education Salary and High-Demand Skills
Music and music education salaries are highly dependent on the district and region that you work within. According to PayScale, for example, music teachers in New York earn 38% more than the national average ($43,300). Additionally, the top five cities for professionals with music education master's degrees are New York City, Phoenix, Chicago, Pittsburgh and Boston.
The skills in demand for music teachers and directors are significantly varied. PayScale shows several key skills linked to higher earnings. For music directors, these include conducting, team leadership, singing, people management and administration. Even for music teachers who focus on a specific type of music or genre, it helps to have a diversified skill set; for example, the skill linked to the highest pay increase for vocal music educators is piano.
To go beyond higher earnings and hit the transformative notes of music education, though, it takes more than a quantitative set of skills. By tapping into creativity, entrepreneurship, your own personal style and softer skills, you can help to push your students to new heights and realize the full potential of their talent. For Jeanne Goffi-Fynn, this means making it a focus of all her work to help singers take ownership of their voices. Achieving this requires her to step into the dual role of teacher and life coach, to understand the unique needs of her students and help lead them to role models who can show them different paths toward finding fulfillment in music.
Music Education Salaries
As previously mentioned, geographic region and level of education can play a dramatic role on earning potential within this field. Another crucial factor in determining music education salary is the type of environment you want to teach in. For example, self-employed private music teachers have more control over setting their rates as well as where they work than those who work for a school or other organization. As a result, they can have higher salary potential, but they also take on more of the risk, since they are responsible for marketing and promoting themselves as well as the administrative duties associated with running their own business.
For many, becoming a music teacher is about more than just earning a salary—it is a chance to enrich the lives of many young people, and to help them find new ways of expressing their creative selves. Innovative and driven music educators will be able to find these opportunities to make a difference regardless of the career path they choose. It may not be easy, but through dedication and an eye toward bringing out the absolute best in their students, music educators can go beyond the typical career path and truly transform the lives around them.
About Teachers College MA in Music and Music Education
The Hybrid Summer Master of Arts in Music and Music Education (M.A. M&ME) at Teachers College, Columbia University is designed for professionals who seek to transform themselves, their students and their communities. With an academically rigorous curriculum and on-campus experiences, our program equips graduates with a diverse and rich skillset they can use to tap into their passions and become a driving force in the transformation of music education.
---
Request Information
To learn more about the Hybrid Summer Master of Arts in Music and Music Education, offered by Teachers College, Columbia University, fill out the fields below to
download a free brochure.
If you have additional questions, please call
(877) 238-6628
to speak with an admission counselor.
*
All Fields are Required. Your Privacy is Protected.
Are you enrolling from outside the U.S.? Click Here.
---