How to Engage Students Using Music Education
---
If you think back to the educational TV shows you watched as a kid, one aspect that probably stands out is the songs. There are good reasons why people remember "Yakko's World" from "Animaniacs," "There's Science in Music" from "Bill Nye the Science Guy," or "I'm Just a Bill" from "Schoolhouse Rock!" long after the shows that spawned them went off the air. Music can be enjoyable, emotional—and a powerful tool for communicating information.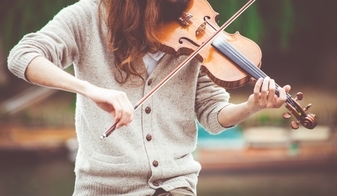 Teachers who engage students using music education can achieve better outcomes in their classes while making the day livelier and more fun. However, it takes careful planning to involve students and ensure they get the most out of their experiences. Music teachers and other educators optimize engagement by developing effective pedagogical strategies for integrating music into everyday learning and tailoring their lesson plans to the specific needs of their classes.
---
How Does Music Help Students Learn?
Every music teacher sees the impact of the work they do firsthand when students master new skills and discover their passion for playing or singing. Mastering a complex passage in a piece or exploring a new style can be powerful, unforgettable experiences. However, there's also academic research to show why building an understanding of music is such an important part of education: Studies have linked musical education to improvements in areas such as problem-solving, memory and reading.
Learning music can improve students' cognitive performance and provide valuable motivation. A longitudinal study of 147 children, published in Frontiers in Neuroscience, found evidence that studying music in structured classes led to improvements in language-based reasoning, short-term memory, planning and the ability to focus over a period of 18 months. Earlier research, conducted on 117 fourth-graders in Montreal, showed that three years of piano instruction significantly enhanced young people's self-esteem.
Outside of dedicated music education courses, adding some melodies throughout the school day is a means of bringing excitement to lessons and inspiring students of all ages to get involved. In a recent book, researchers Chip and Dan Heath suggested that the key to making classes more memorable and meaningful to students lies in offering more "peak" moments of rich experience. Music may help to ensure that students take something away when they leave the classroom.
---
Music in the Classroom – Benefits for Students
Help students concentrate on, understand and remember lessons
Offer an intriguing starting point for learning about topics like a historical period or piece of literature
Signal the beginning and conclusion of activities, resulting in smoother transitions throughout the day
Encourage students to express themselves and relate to class material on a personal level
Build closer connections between teachers and students
Provide opportunities for collaboration
---
What is Student Engagement?
Inspiring engagement is both a primary goal and major challenge for many teachers and schools today. That's because engaged students don't just complete assignments and memorize facts, doing the minimum to earn a passing grade. Rather, students who genuinely care about investigating a course's subject matter will become actively involved in making their classes productive learning environments.
Teachers promote engagement by rewarding active participation, using technology extensively and thoughtfully planning discussion sessions. Some educators even "flip" their classes, requiring students to absorb key concepts outside of the classroom and arrive already prepared to build on what they've discovered through collaboration and problem-solving activities.
The National Survey of Student Engagement offers a way of quantifying relevant metrics to determine how effectively schools are reaching their pupils. Conducted annually at colleges and universities, the survey asks questions based on four types of indicators:
Academic challenge, including measurements of higher-order learning, reflective and integrative learning, learning strategies and quantitative reasoning
Learning with peers, broken down into the categories of collaborative learning and discussions with diverse others
Experiences with faculty, based on student-faculty interactions and signs of effective teaching practices
Campus environment, determined by the quality of interactions and the presence of resources for support
Other signs of engagement may include participation in opportunities like service learning and internships. Engaged students are likely to believe that they are developing relevant skills for their future occupations and take advantage of career preparation resources.
---
Engaging Methods and Strategies in Teaching Music
Being a skilled musician is just one part of teaching music. To succeed in the classroom, educators must develop engaging approaches that help students reach their potential. According to the Maryland State Board of Education, some of the best practices for effective music teaching include:
Create a welcoming and comfortable environment by accounting for factors like lighting, noise level, seating arrangements and traffic patterns when entering and leaving a classroom.
Use a variety of instructional methods so all students can participate fully in activities and have multiple chances to grasp the subject matter.
After explaining a musical concept or technique, let students try it out for themselves. Then, provide supportive feedback before moving on.
Clearly define and enforce behavioral guidelines that foster a sense of community and make it possible for everyone to focus on their work without distractions.
Incorporate instructional technology, such as computer programs that help students learn musical notation or compose their own pieces.
When teaching younger children, it is often especially important to incorporate a multisensory approach to learning. Kids may become more invested in musical ideas when they have a tangible experience, like pounding out a rhythm on a bucket or completing a color-by-note worksheet.
Instructors can add fun to tasks like memorizing the notes of treble clef or introducing the basics of theory by playing music education games. For example, they can lead a round of a rhythm-based activity or allow time for students to play with musical creation apps on tablet computers.
---
About Teachers College MA in Music and Music Education
The Hybrid Summer Master of Arts in Music and Music Education (M.A. M&ME) at Teachers College, Columbia University is designed for professionals who seek to transform themselves, their students and their communities. With an academically rigorous curriculum and on-campus experiences, our program equips graduates with a diverse and rich skillset they can use to tap into their passions and become a driving force in the transformation of music education.
---
Request Information
To learn more about the Hybrid Summer Master of Arts in Music and Music Education, offered by Teachers College, Columbia University, fill out the fields below to
download a free brochure.
If you have additional questions, please call
(877) 238-6628
to speak with an admission counselor.
*
All Fields are Required. Your Privacy is Protected.
Are you enrolling from outside the U.S.? Click Here.
---