What Can You Do With a Master's Degree in Music Education?
---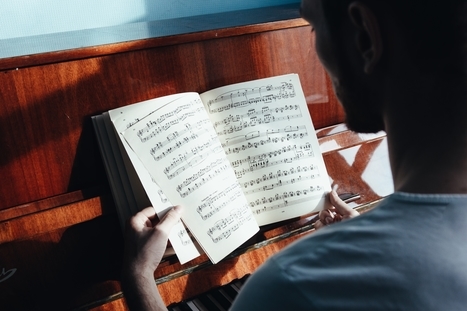 As the world shifts rapidly towards becoming more inclusive and advanced, today's educators should consider how to celebrate diversity and utilize increasingly innovative technology in their teaching practices. In addition to technological challenges, equity and racial justice rose to prominence in the zeitgeist of 2020, calling for us to rethink our role as educators in helping to create a smarter and more equitable society. Addressing these concepts head-on allows teachers to better engage their students and can have the added benefit of improved learning outcomes. Similarly, a focus on promoting equity and celebrating diversity within classrooms helps rectify some of the systemic issues facing low-income students and students of color.
For music teachers, a Master of Arts in Music and Music Education can help them face these challenges while benefiting their careers, their intellectual curiosities, and their classrooms.
---
Reasons to Earn an M.A. in Music Education
The best music education graduate programs are built on a strong foundation of musical and educational theory. Throughout their post-graduate experiences, music teachers critically observe how music is taught, explore innovative approaches to engaging and inspiring their students, review music education research and research methodology, and have opportunities to conduct their own research firsthand.
Music education programs with fieldwork opportunities also allow teachers to put all they've learned into practice and receive real-time support and feedback. By developing these skills in a supportive, educational environment, teachers can confidently utilize them back in their own classrooms.
An M.A. in music education can enhance one's teaching practice by:
Advancing pedagogical knowledge and skills: Classes that focus on foundational music education theory and practice, creative problem-solving in the classroom, philosophy of music and music education, and using new technologies to teach music broaden one's teaching abilities. Graduate students complete the program with a more comprehensive understanding of the pedagogical theories and practices that will best benefit music students.
Providing opportunities to learn new skills: Graduate students can improve their existing musical talents and learn new genres and instruments, which allow them to explore new interests, pursue other career opportunities, or help them support a wider range of learners.
Allowing music education professionals to connect, collaborate, and support each other: Students in the program find a community of like-minded, resource-sharing peers who may become life-long colleagues and friends. Enrolling in a master's program allows teachers to study and share ideas with others who share their passion for music education.
Improving computer literacy: Online and hybrid programs help master's students build their knowledge of digital education tools like Zoom, Logic Pro X and Canvas. They may even discover or design creative ways to instruct virtually – for example, by using video conferencing to hold auditions.
Expanding teaching possibilities: A master's in music education is a great option for those who want to switch to a different professional setting, such as transitioning from a private practice to teaching at a college or university. Additionally, a graduate degree can open opportunities to work in new locations, possibly allowing graduates to teach in states that require post-graduate education to become certified.
---
Possible Careers for M.A. in Music Education Graduates
A master's in music education can allow musicians and music teachers more flexibility in their careers. Graduate education is a great option for those who wish to teach a different grade, move to a different state or expand their skills, and for musicians who'd like to transition into teaching.
K-12 Music Teachers: An M.A. in music education may fulfill state-mandated degree requirements for music teachers in K-12 schools, and an advanced degree program can give teachers the knowledge and skills to be more effective in their classrooms.
Postsecondary Music Teachers: As with K-12 positions, a music education master's degree can certify teachers to work at the college or university level, depending on the state. Additionally, a master's degree can prepare teachers to serve on department committees or conduct research.
Music Director/Composer: Studying music education can help non-teaching professionals bring out the best in their musicians. A program that combines music and music education can be especially helpful in allowing directors and composers for expanding both their personal creativity and teaching skills.
Private teachers: A degree from a comprehensive master's program helps private music teachers promote their services and differentiate themselves from competitors. Programs with a focus on diversity and technology prepare instructors to lead learners of varying backgrounds and to utilize the latest technology in teaching practices, increasing the likelihood of retaining students.
---
What To Look For in A Music Education Master's Program
Whether the goal is to discover better ways of instilling a love of music in the next generation or simply to find new career opportunities, a master's in music education program with a comprehensive, multifaceted approach makes graduates more capable of addressing the diverse needs of their students.
Some opportunities to look for in a music education graduate program include:
Fieldwork and classroom training: Such programs provide an invaluable experience that can't be obtained any other way. Participating teachers can improve their skills in a safe, supportive environment without worry of administrative complications. Additionally, these teachers can rely on helpful, real-time feedback from their peers and instructors, ultimately improving their teaching abilities.
Ensemble experiences: Music teachers who are interested in gaining experience with live performances and ensembles can narrow their searches down to programs that have residency or fieldwork components. These master's programs are also excellent for networking and connecting educators together who can then inspire each other to grow as teachers.
Non-music classes: By expanding one's individual perspective, courses in art, psychology, philosophy, computer science, or other departments can lead to improved strategies in the music classroom. For example, a basic understanding of psychology can help teachers better connect with their students, creating a sense of safety and trust that allows them to truly flourish.
Research: Music education programs with a research component keep teachers abreast of the latest evidence-based teaching strategies. Educators enrolled in these programs may also have the option to participate in related research problems if they wish.
---
About Teachers College MA in Music and Music Education
The Hybrid Summer Master of Arts in Music and Music Education (M.A. M&ME) at Teachers College, Columbia University is designed for professionals who seek to transform themselves, their students, and their communities. With an academically rigorous curriculum and on-campus experiences, our program equips graduates with a diverse and rich skillset they can use to tap into their passions and become a driving force in the transformation of music education.
---