Jeanne Goffi-Fynn, Ed.D.
---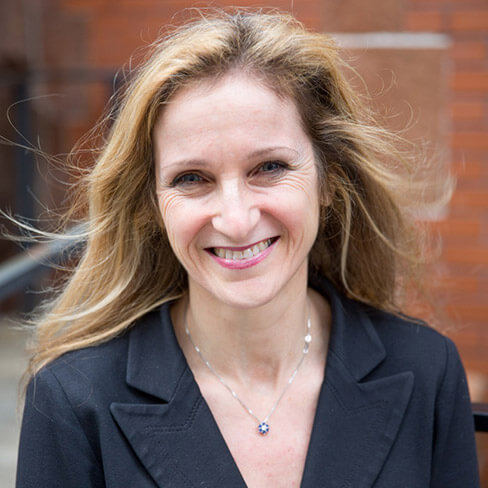 Senior Lecturer
Jeanne Goffi-Fynn is a Senior Lecturer and Director of the Doctoral Cohort Program in the Program of Music at Teachers College, Columbia University. Her areas of interest include the Performance of Singers across the Lifespan, Applied Studio Teaching, Voice Development and Pedagogy across styles including CCM, Collaborative Mentoring, and Ensemble Singing. She is also a Singing Voice Specialist, specifically in the retraining of singers, with Muscular Tension Dysphonia (MTD) a specific area of interest. Prior to joining Teachers College, she served on the faculty of New York University, the New School Actors Studio M.F.A. Program, William Paterson University, and the American Musical and Dramatic Academy. She has completed internships in vocology at the Grabscheid Voice Center at Mt. Sinai Hospital and St. Luke's-Roosevelt Hospital, both in New York City, and continues to help singers with vocal retraining.
Jeanne has presented workshops, master classes and pedagogical presentations for numerous organizations, including the National Association of Teachers of Singing (NATS), New York Singing Teachers Association (NYSTA), College Music Society (CMS), International Congress of Voice Teachers (ICVT), The Voice Foundation, the American Choral Directors Association (ACDA) and International Society for Music Education (ISME). She is a member of the American Academy of Teachers of Singing (AATS) and serves with Opera America on their Singers Training Forum, Board of Overseers and Strategic Committee. She is currently President of NATS_NYC where she developed a new Mentorship Program, currently in its fifth year. Additionally, she is Chair of the National NATS Mentoring Initiatives, which oversees all aspects of mentoring with NATS.
She has developed Singers' Workshops at TC, aiding both the education of graduate students and the development of young singers between 11-17, a program which grew out of her experience with Every Voice Choir. As the director of the Workshops, she works to co-create responsive pedagogy in developing the interests and needs of young singers, leading the Process of Performance Audition Preparation, Music Theatre workshops, and Young Men's workshops. Opportunities within the program include performances across the NYC area, master classes with leading performers, and! She also is the singing voice specialist with TC's Every Voice Choirs, a multi-faceted group with performances across NYC.
Jeanne's career included opera, legit music theatre, choral gigs, and solo recitals often with newly commissioned works. Her operatic roles include Marie in Daughter of the Regiment, Susanna in Le Nozze di Figaro, and Olympia in Les Contes d'Hoffmann while she has given concert and oratorio performances with numerous ensembles including the Lugano Radio Orchestra, Switzerland, and the Rumanian Radio Orchestra in a tour of Northern Italy. She has also studied and performed at the Zurich Opera Studio and with the American Institute of Musical Studies in Graz, Austria. During the summer, she can be found at the International Lyric Academy based in Vicenza, Italy.
Dr. Goffi-Fynn holds a Bachelor of Music in Voice Performance from Boston University, Master of Music in Voice Performance and Pedagogy from the University of Colorado, and Doctorate in Music Education from Teachers College, Columbia University. Her publications include work in MTD, Music Theatre, Studio Instruction, and young voices. Learn more about Dr. Goffi-Fynn on her TC faculty page, JeanneGoffiFynn.com, and SingersWorkshops.org.